Welcome to the world of Outside Living
Omega supplies a range of high quality garden rooms designed to meet your everyday needs all year round. The garden rooms offer a sensible extension to your living space without the complications of planning and building regulations*. They are very low maintenance and usually can be completed within a day.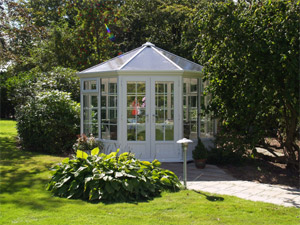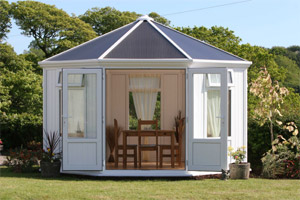 Omega Garden rooms are genuine self contained buildings:secure,self standing,waterproof,draught free and attractive. They have superior thermal performance as they are manufactured with the latest double glazed units and insulated roofs. They also have good sound insulation which makes them ideal as music rooms or homes offices. The high levels of natural light they let in make for a great art studio.
The Omega Garden room is designed and manufactured in the UK. It is very popular in Denmark.As with the UK, Danish lifestyle has changed where people are no longer looking to go out to restaurants and bars to meet with friends and relatives, but would rather stay at home to entertain whether this is organising a dinner party, barbeque or simply getting together with friends for a chat and drink outside without letting the unpredictability of the weather spoil the event. The Omega range of Garden Rooms provide a perfect setting for such occasions or can be installed with a hot tub the perfect way to end the stresses of the week by soaking them away in a purpose built garden room and hot tub.
The Omega range of pavilions and garden rooms has been designed taking into account the environment. For many years the Scandinavian countries have been aware of the impact certain materials can have on the environment and therefore has remained with traditional materials. Omega PVC is one of the first PVC extrusions to enter the Danish market as it has been developed so it no longer contains lead or cadmium and therefore makes this material totally recyclable.
If you would like a brochure or to arrange a quotation please contact our sales office on 01769574426 or email us on info@omegabuild.com
If you would like to see more of the range go to our online garden room shop.
* Disclaimer We would always recommend checking your local planning rules particularly if you live in a national park or AONB