10mm Polycarbonate Sheets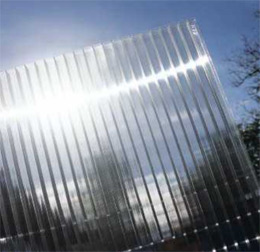 Our 10mm Polycarbonate sheeting is supplied in Clear, Bronze and Opal and is part of the Omegabuild range of polycarbonate roofing.
Applications include greenhouse and temporary glazing, carports, animal shelters and open-sided structures where good thermal insulation is not a requirement.
Buy 10mm polycarbonate in our shop
More informatiion about 10mm Polycarbonate
10mm polycarbonate roofing sheets are available in Clear, Bronze and Opal colours. The 10mm polycarbonate sheet is used as a roofing sheet in the main as it is versatile, lightweight and it offers an affordable solution to builders and diy-ers.
Our twinwall 10mm clear polycarbonate sheets are used in the construction of roofs for open structures such as, carports, walkways, garden shelters, smoking shelters and verandahs. The main advantage of 10mm polycarbonate sheets are that they are easy to work with and easy to cut to shape. If you are looking for a particular size and shape, please visit our made to measure polycarbonate section where we offer a cut to size service.
As a plastic roofing sheet the twinwall 10mm polycarbonate sheet offers the advantage of being a strong high impact resistant roofing sheet that is durable and long-lasting, while allowing a lot of natural daylight to pass through it.
We have supplied 10mm polycarbonate sheeting within the UK and beyond for over ten years, and have a wide range of sizes and thicknesses at competitive prices. Coupled with our range of roofing components, such as roof glazing bars you can order everything you need for your project from our website.
Our friendly experienced staff can help you & guide you with your purchase of your 10mm polycarbonate sheets so please call today on 01769 574426 or complete our form requesting more information about 10mm plastic sheets. Remember that we also supply polycarbonate in these thicknesses as well; 16mm plastic sheets, 25mm plastic sheets and 35mm plastic sheets.

Regarding cutting and fitting, our twinwall 10mm polycarbonate sheet is easy to cut and work with and we offer delivery throughout the UK. Find out more about the origins and uses of polycarbonate here on Wikipedia.
PRODUCTS IN THIS SECTION

Our Price : £ 12.22 Ex. VAT

Price With Vat : £ 14.66 Inc. VAT



Our Price : £ 12.22 Ex. VAT

Price With Vat : £ 14.66 Inc. VAT






Our Price : £ 12.22 Ex. VAT

Price With Vat : £ 14.66 Inc. VAT

Multiwall Polycarbonate Glazing Sheets - Standard Rectangles • 10mm Multiwall Polycarbonate Glazing Sheets - Standard Rectangles

As well as Multiwall 10mm Multiwall Polycarbonate Glazing Sheets Omega Build supply a range of roofing components such as roof lanterns, roof domes, diy conservatory roof kits, polycarbonate roofing sheets, polycarbonate canopy kits, door canopy kits and much more.
Updated May 2021.