Greenhouses and Glazing accessories • Greenhouse Glazing and Accessories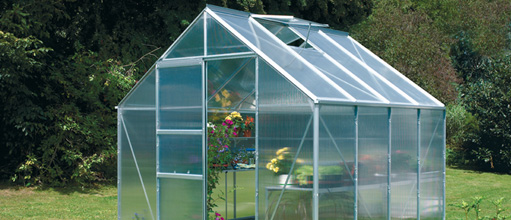 There are a number of useful items such as shelves, greenhouse polycarbonate sheets and work/potting benches also available to provide a complete solution for how you use your greenhouse.
Greenhouse Key Features:
(No Rust) aluminium frame. 90%+ light transmission.
Includes dual rain gutters for water collection. Maintenance free.
Illustrated step-by-step assembly instructions. High headroom and eaves.
100% UV protected panels - will not yellow.
Blocks harmful UV rays to protect inner equipment.
Vent window included for air circulation to balance humidity and temperatures.
Greenhouses are guaranteed for 10 years.
PRODUCTS IN THIS SECTION

Our Price : £ 7.89 Ex. VAT
Price With Vat : £ 9.47 Inc. VAT


Our Price : £ 2.04 Ex. VAT
Price With Vat : £ 2.45 Inc. VAT


Our Price : £ 49.56 Ex. VAT
Price With Vat : £ 59.47 Inc. VAT


Our Price : £ 7.89 Ex. VAT
Price With Vat : £ 9.47 Inc. VAT


Our Price : £ 10.52 Ex. VAT
Price With Vat : £ 12.62 Inc. VAT


Our Price : £ 5.94 Ex. VAT
Price With Vat : £ 7.13 Inc. VAT


Our Price : £ 7.94 Ex. VAT
Price With Vat : £ 9.53 Inc. VAT


Our Price : £ 12.17 Ex. VAT
Price With Vat : £ 14.60 Inc. VAT


Our Price : £ 28.32 Ex. VAT
Price With Vat : £ 33.98 Inc. VAT


Our Price : £ 10.49 Ex. VAT
Price With Vat : £ 12.59 Inc. VAT


Our Price : £ 25.04 Ex. VAT
Price With Vat : £ 30.05 Inc. VAT


Our Price : £ 27.14 Ex. VAT
Price With Vat : £ 32.57 Inc. VAT


Our Price : £ 17.46 Ex. VAT
Price With Vat : £ 20.95 Inc. VAT


Our Price : £ 33.00 Ex. VAT
Price With Vat : £ 39.60 Inc. VAT

Greenhouses and Glazing accessories • Greenhouse Glazing and Accessories


As well as Greenhouses and Glazing accessories • Greenhouse Glazing and Accessories Omega Build supply a range of roofing components such as roof lanterns, roof domes, diy conservatory roof kits, polycarbonate roofing sheets, polycarbonate canopy kits, door canopy kits and much more.

<< Previous 1 2