Commercial Roofing Suppliers
As commercial roofing suppliers, Omega Build can supply polycarbonate, glazing bars and roofing supplies for large scale commercial roofing projects industrial roofing. We are based in the South West, but send our affordable roofing supplies all around the UK.
This can be roofing materials and products such as rooflights, glazing, cladding, fabrication, print and display. We can supply a wide range of material options, multiwall, corrugated and flat sheet formats, tints, colours and special finishes.
We supply primarily UK manufactured brands such as Marlon which have earned a global reputation for quality and performance. Diverse and versatile, they have been used in everything from the rooflights of Wembley Stadium, to riot shields and typhoon resistant signage for McDonalds. Call us on 01769 574426 to discuss your requirements now.
Some examples of where our products have been used for industrial and commercial roofing projects are as follows:
Sports Stadium Roofs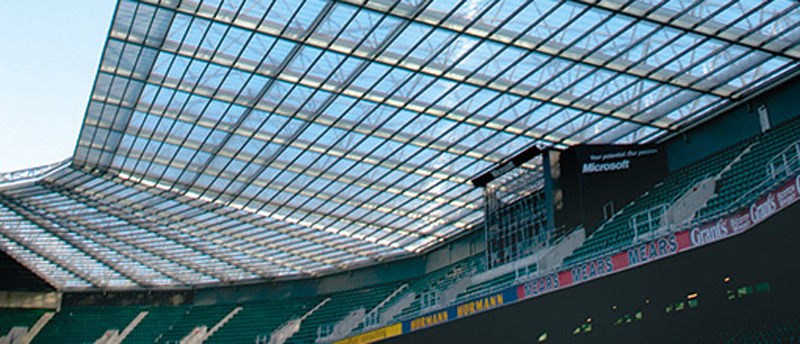 Clear Marlon polycarbonate is ideal for sports stadium roofs. It was used in the refurbishment of the South/South West Stand at Twickenham rugby ground. Clear Marlon CS Longlife provides almost 90% light transmission creating a light, bright environment for the spectators below and also provides the necessary light to aid rapid pitch recovery after matches.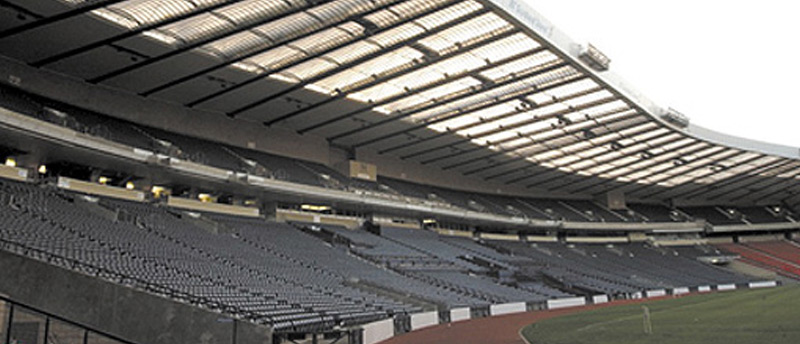 Multiwall polycarbonate roofing sheets were used to glaze the canopy roof at Hampden Park home of Scotland FC. Clear Marlon Longlife was chosen to allow maximum natural daylight which not only promotes a healthy pitch but creates a pleasant environment for spectators as well. Multiwall roofing sheets are manufactured from damage-resistant polycarbonate with a co-extruded UV protection layer which prolongs the life of the sheet and carries a 10 year warranty.
School and Playground Canopies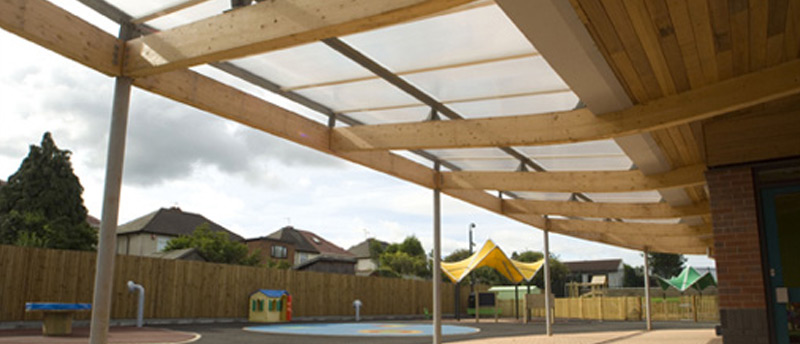 Clear Marlon multiwall polycarbonate was used to glaze the covered walkway over the main entrance and around the building at Orchard Special School in Oldbury. It is manufactured from damage resistant polycarbonate with a co-extruded UV layer protecting the sheet from the effects of UV weathering. The clear option provides high levels of natural light transmission and has enabled the designer to create a playground canopy area providing shelter for staff and pupils with the feeling of still being outdoors.
Shopping Centre Canopies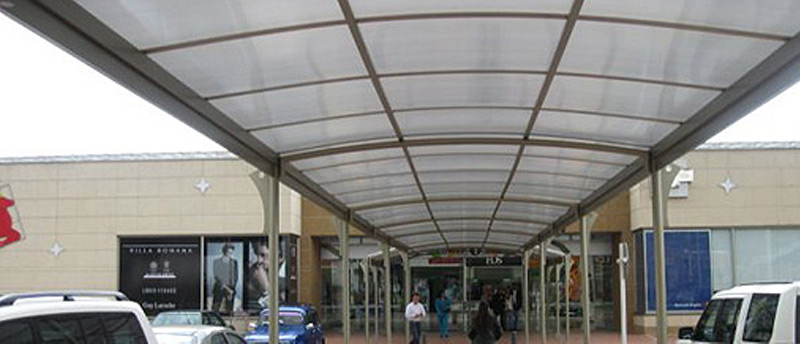 10mm multiwall polycarbonate was used to create this impressive shopping centre canopy. Located to the front of a popular shopping mall, providing shelter for shoppers during storms. Marlon is available in a range of tints for varying degrees light transmission. Marlon ST Longlife carries a 10 year warranty.
Swimming Pool Canopies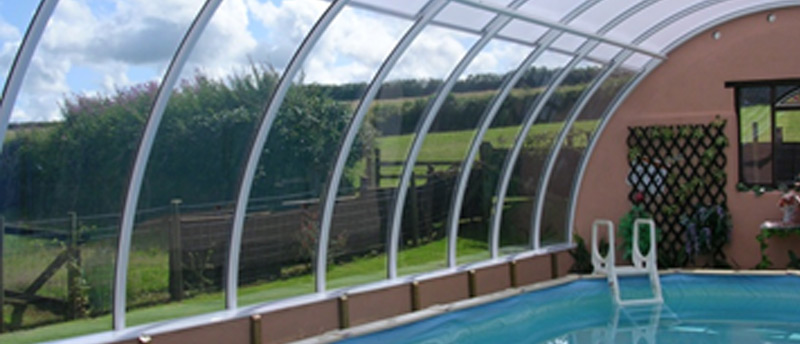 Solid UV protected polycarbonate along with 16mm opal triplewall polycarbonate was used to create the finishing touches to an outdoor swimming pool. Not only does the swimming pool canopy offer UV protection for those swimming beneath it, it also leads to longer sheet life expectancy. The pool cover creates a stunning feature which means it can be used throughout the year, whatever the weather. Both material can also cold form over the steel frame.
Your Project and our Commercial Roofing Solutions
Commercial roofing systems are obviously larger than their residential counterparts and take longer to complete. Commercial roofing solutions and advice is available from our team here at Omega Build, where we can help you with choosing the best material for your roofing project & give you a indication of the cost and lead times involved with the delivery of any roofing supplies you or your company need for your build.
We cover all of the UK, but we are based in the South West and typically are able to offer free shipping on deliveries to projects in Devon, Cornwall and Somerset.
FOR ANY COMMERCIAL ROOFING SUPPPLIES YOU NEED FOR YOUR ROOFING PROJECT, PLEASE CALL US ON 01769 574426.