DIY Conservatory Roof Kit • DIY Conservatory Roof Kit with Rafter Supported Glazing Bars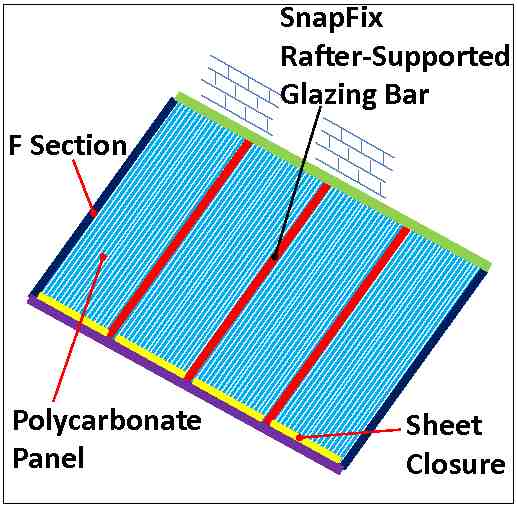 These lean to roof kits are for Lean-To Conservatory Roofs with wooden (roof) rafters.
Our diy conservatory roof kits are supplied complete with all you need for simple diy installation of a lean-to conservatory roof providing a great lean to roofing solution.
All polycarbonate roofing systems and
Omegabuild polycarbonate roofing kits
for conservatories are supplied with roofing Glazing Bars and polycarbonate roofing sheets, at specific lengths to cut to your required size on site. For the experienced DIYer this kit offersa quick solution and a high quality, attractive diy conservatory roof once completed. The projection dimension specified for the Kit refers to the length of the glazing Bars and Polycarbonate panels.The actual horizontal projection achieved will vary depending on the angle at which the roof is fitted.
Polycarbonate Options: 10mm, 16mm and 25mm Clear, Bronze or Opal Polycarbonate roofing sheets.
Widths: 3.2m to 7.5m. Projections: 1.5m to 4.0m.
Each DIY Conservatory Roof Kit includes:
Polycarbonate glazing panels, Rafter Supported Snapfix Glazing Bars,
F Sections (for roof edges), Sheet Closures, Solid and Breather tapes,
Screw Buttons, Installation guide.

All Conservatory Roof Kit components are guaranteed for 10 years.
If you know what you want:

Buy Online below

.
PRODUCTS IN THIS SECTION

Our Price : £ 102.92 Ex. VAT
Price With Vat : £ 123.50 Inc. VAT


Our Price : £ 124.96 Ex. VAT
Price With Vat : £ 149.95 Inc. VAT


Our Price : £ 150.35 Ex. VAT
Price With Vat : £ 180.42 Inc. VAT


Our Price : £ 173.48 Ex. VAT
Price With Vat : £ 208.18 Inc. VAT


Our Price : £ 198.20 Ex. VAT
Price With Vat : £ 237.84 Inc. VAT


Our Price : £ 128.63 Ex. VAT
Price With Vat : £ 154.36 Inc. VAT


Our Price : £ 158.19 Ex. VAT
Price With Vat : £ 189.83 Inc. VAT


Our Price : £ 192.53 Ex. VAT
Price With Vat : £ 231.04 Inc. VAT


Our Price : £ 223.17 Ex. VAT
Price With Vat : £ 267.80 Inc. VAT


Our Price : £ 255.41 Ex. VAT
Price With Vat : £ 306.49 Inc. VAT


Our Price : £ 156.69 Ex. VAT
Price With Vat : £ 188.03 Inc. VAT


Our Price : £ 197.99 Ex. VAT
Price With Vat : £ 237.59 Inc. VAT


Our Price : £ 236.69 Ex. VAT
Price With Vat : £ 284.03 Inc. VAT


Our Price : £ 275.21 Ex. VAT
Price With Vat : £ 330.25 Inc. VAT


Our Price : £ 314.96 Ex. VAT
Price With Vat : £ 377.95 Inc. VAT

DIY Conservatory Roof Kit • DIY Conservatory Roof Kit with Rafter Supported Glazing Bars

As well as

DIY Conservatory Roof Kit • DIY Conservatory Roof Kit with Rafter Supported Glazing Bars

Omega Build supply a range of roofing components such as roof lanterns, roof domes, diy conservatory roof kits,

affordable secondary glazing systems

, polycarbonate roofing sheets, polycarbonate canopy kits, door canopy kits and much more.

1 2 >>