DIY Conservatory Roof Kit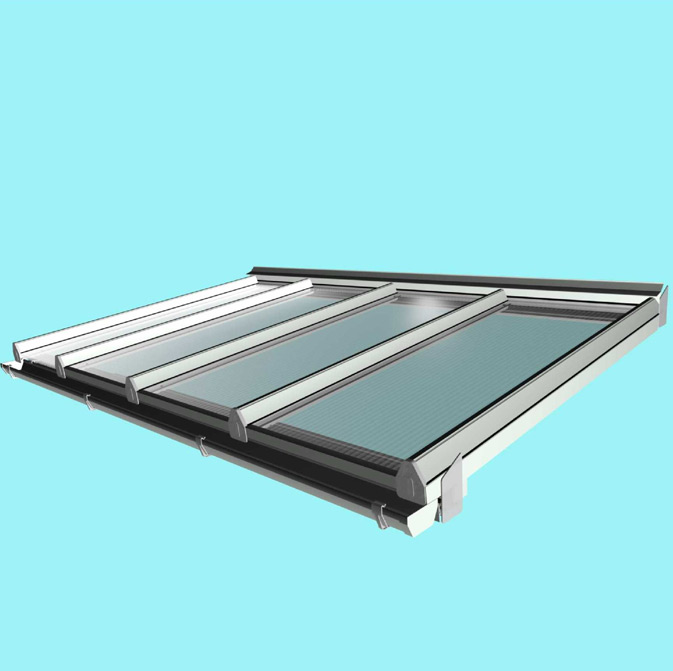 DIY Conservatory Roof Kits comprise the components required to assemble and install a conservatory roof.
DIY conservatory roof kits are designed to suit a range of standard sizes.
There are a number of considerations for
lean to roof kits
:
1. Whether you have an existing frame with (generally wooden) rafters to secure your 'Rafter-Supported Glazing Bars, or
2. You require a 'self-supporting roof' (no supporting wooden rafters).
If you know what you want:

Buy Online below

.
Diy Conservatory Roof Overview
Kits like our renowned Diy Conservatory Roof (with Rafter Supporting Glazing Bars) are a great solution for a diy conservatory roof.
A conservatory is an excellent addition to any home, providing a bright and airy space that can be used for a variety of purposes, including as a dining room, home office, or simply a place to relax and enjoy the sunshine.
One of the most significant benefits of adding a DIY conservatory roof is that it can greatly improve the energy efficiency of your conservatory. Without a proper roof, heat can easily escape through the glass and make your conservatory uncomfortable and expensive to heat. With a well-insulated roof, however, you can keep your conservatory warm and comfortable all year round, while also reducing your energy bills.
Another advantage of adding a DIY conservatory roof is that it can help to protect your furniture and belongings from damage. Without a roof, your conservatory is vulnerable to rain, wind, and other weather conditions, which can cause furniture to become damp, discolored, or even moldy. A conservatory roof will provide protection from the elements, allowing you to use your conservatory as a safe and comfortable space for storage or relaxation.
In addition to these practical benefits, adding a DIY conservatory roof can also enhance the aesthetic appeal of your home. A well-designed and well-built conservatory roof can add an elegant and sophisticated touch to your property, making it more attractive to potential buyers and increasing its overall value.
Furthermore, installing a DIY conservatory roof is often much more affordable than hiring a professional contractor to do the job. With the right tools and materials, it is possible to complete the installation yourself, saving you money and giving you the satisfaction of knowing that you did the work yourself.
Finally, adding a DIY conservatory roof is a great way to personalize and customize your conservatory to your exact specifications. There are many different types of conservatory roofs available, including glass, polycarbonate, and solid options, allowing you to choose the style and design that best suits your needs and preferences.
In conclusion, adding a DIY conservatory roof is a smart and practical investment that can provide a wide range of benefits. From improving energy efficiency to enhancing aesthetic appeal, protecting your belongings to saving money on installation costs, a conservatory roof is a must-have for anyone who wants to get the most out of their conservatory space. So why wait? Start planning your DIY conservatory roof project today and enjoy all the benefits that come with it!
DIY Conservatory Roof Kit - Omega Build supply a range of roofing components such as DIY Conservatory Roof Kit, diy conservatory roof kits, polycarbonate roofing sheets, polycarbonate canopy kits and much more. You are currently browsing the DIY Conservatory Roof Kit category of our polycarbonate sheets and canopies shop.