CARPORT CASE STUDIES

Omega Build supplies a complete range of self-supporting canopy glazing systems for carports. Ideal for domestic and commercial uses including the Omega Smart Canopy. The canopy glazing system has been designed for speed of installation and can be installed in less than a day. It provides an attractive, functional, and cost-effective long-term solution for all domestic and commercial applications, including for use as a carport.
It is very versatile with only a minimum number of components that can produce standard lean-to canopies and also includes an option for glass clear glazing as well as the more traditional 16mm multiwall polycarbonate sheets. The system comes with a manufacturer's guarantee of 10 years.
This section of our website details some case studies, where our canopy products have been purchased and installed by clients. If you are looking to create an addition to your property like some of the carports and canopies shown on this page, please get in touch. Our full range of UK carport products is here.
CASE STUDY 1
CASE STUDY 2
CASE STUDY 3

As a leading UK supplier of canopies, we have seen and heard about all issues and problems over the years. No matter what issue you are facing, or looking to resolve our sales team will be able to give you the best advice and offer you a solution from our range of products.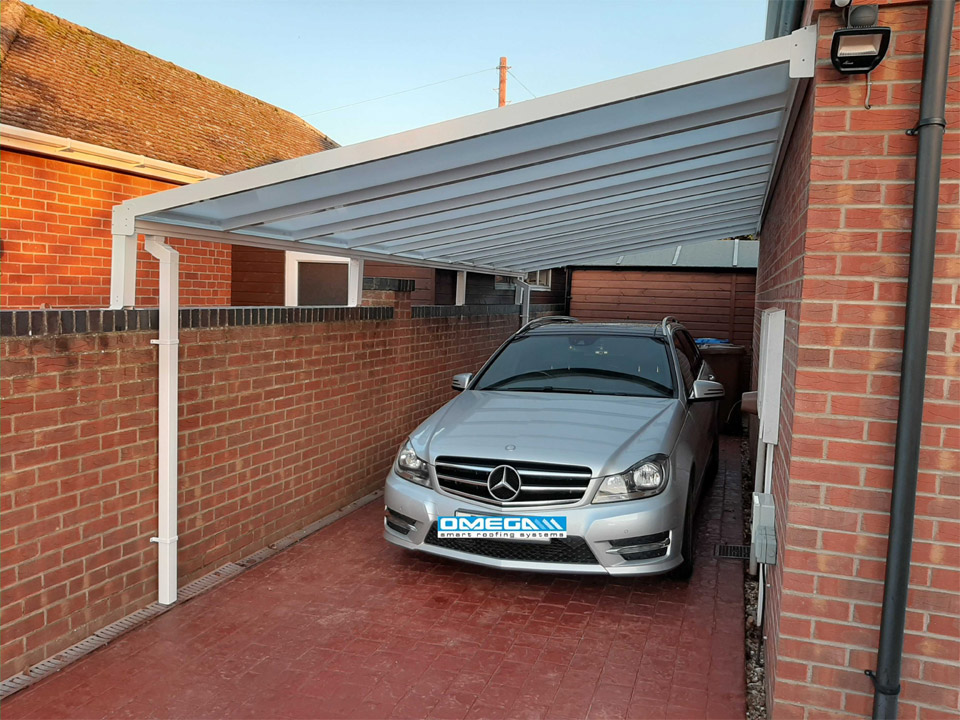 What are Carports?
Carports are a versatile and cost-effective way to protect your vehicle from the elements. Unlike traditional garages, carports are open on at least one or two sides, allowing for better ventilation and easier access. They can be made from a variety of materials, including wood, steel, and aluminum, and come in a range of sizes and styles to suit your needs. Carports can be freestanding or attached to your home, and can even be used as covered outdoor living spaces or storage areas.
One of the main advantages of a carport is its affordability. A carport can provide protection for your vehicle without the high cost of building a traditional garage. In addition, carports can often be installed more quickly than garages, as they do not require a foundation or as much construction work. This makes carports a great option for those on a tight budget or who need a quick solution for protecting their vehicles.
Another benefit of carports is their flexibility. Because they are open on one or more sides, carports can be used in a variety of ways beyond just protecting your vehicle. They can be used as covered outdoor living spaces for gatherings or as storage areas for equipment and outdoor furniture. Some people even use their carports as makeshift workshops or exercise areas. With a carport, you have the freedom to use the space in whatever way suits your needs.

Carport Faq's
Q: What is a carport?

A: A carport is a covered structure that provides a sheltered area for vehicles. The carport typically has a roof and is supported by posts or columns, but is open on at least one or more sides.
Q: Can a carport protect my vehicle from the elements?
A: Yes, a carport can protect your vehicle from the elements such as rain, hail, snow, and sun. However, it does not offer complete protection like a garage.
Q: Do I need planning permission to build a carport?
A: Yes, in most cases, you won't need a permit to build a carport. The requirements may vary depending on your location, so it is best to check with your local authorities.
Q: Can a carport increase the value of my property?
A: Yes, a carport can increase the value of your property. It provides a covered area for parking and can be a desirable feature for potential buyers.
Q: How long does it take to install a carport?
A: The installation time for a carport varies depending on the size, design, and materials used. However, most carports can be installed in a day or two.
Q: Do I need to maintain my carport?
A: Yes, regular maintenance is important to keep your carport in good condition. This includes cleaning the roof and gutters, inspecting the structure for damage, and repainting or replacing any worn-out parts.
Carport Customer Comments
"We wanted an affordable but sturdy solution for a carport to keep our new car protected from the elements. We found your canopy online via a Google search and we have to say, it has been a very good purchase..."

...more to follow soon.