Omega Smart Canopy Accessories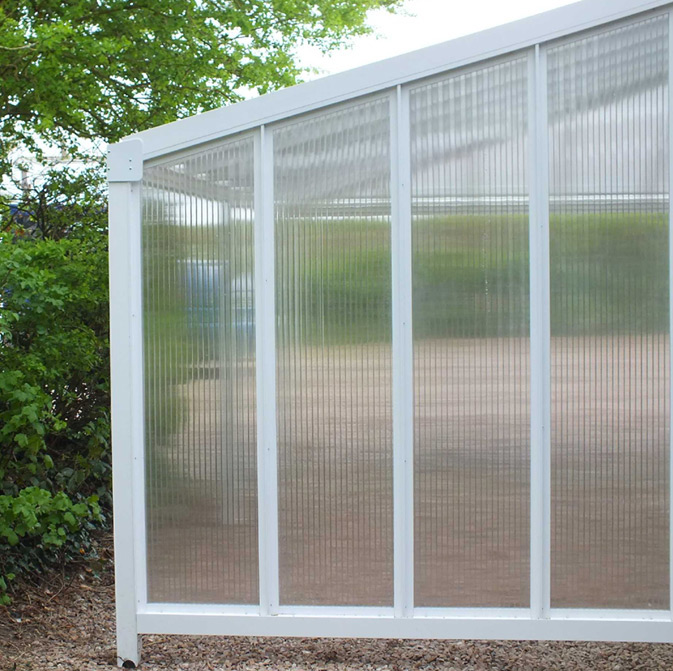 There are (3) main ranges of canopy accessories for the Omega Smart Canopy.
Glazed In-Fill Sections.
Rainwater adaptors.
(Supporting) Post protectors.
Glazed In-Fill sections can be supplied fit to the vertical side elevations and the vertical elevation under the eaves.

These in-fill sections provide made-to-measure solutions providing increased weather-proofing, reducing the impact of driving rain and wind and also increased privacy when using 16mm Opal Polycarbonate.

Rainwater adaptors allow the canopy to be directly connected to standard uPVC square and round rainwater down-pipes. This enables the canopy to integrate with existing rainwater handling or rainwater collection.

Post protectors are available in standard sizes in a range of colours. Post protectors can also be supplied in a range of sizes and cross-sections.Post protectors are most commonly used in commercial or school installations.

The above are all compatible with our canopy range including our new anthracite grey canopy range. See our range of canopy accessories below.
Omega Smart Canopy Accessories - Omega Build supply a range of roofing components such as diy conservatory roof kits, polycarbonate roofing sheets, polycarbonate canopy kits and much more. You are currently browsing the Omega Smart Canopy Accessories category of our polycarbonate sheets and canopies shop.