Aluminium Carports from Omega Build

As well as our popular 16mm polycarbonate sheets, which are ideal for building carports we offer a full range of aluminium carports and aluminium carport kits, all available to buy online on the Omega Build website.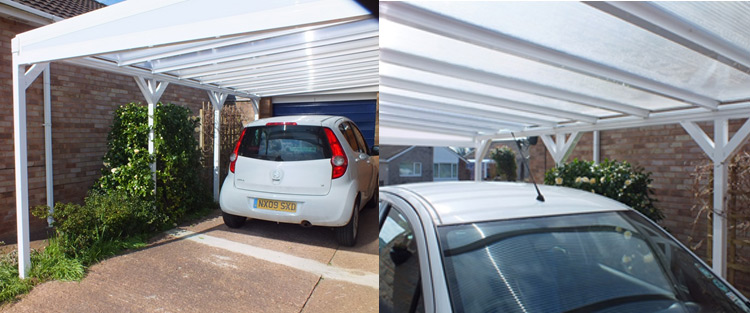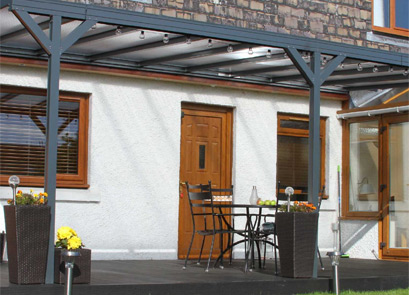 The Omega Canopy Range consists of a number of Canopy sizes and styles.The first Lean-To style canopy in 2012 was the first in the range that can be attached to a house and this has been joined by the Glass Clear Lean-To Style Canopy and three Free-Standing Canopies.
Following positive feedback from our clients we then introduced a number of accessories:
Gutter Adaptors
Infill panels for the side
Infill panels for the front
Clear as glass glazing
Knee Braces
White and Anthracite grey frameworks from stock
Custom Colours available- Brown ,Green, Black etc
Our aluminium canopy range and DIY aluminium carports canopy kits will continue to evolve with new ideas, new accessories.



We design, manufacture and supply our own canopy components for our own canopy design and these are ideal for carports.
After many years, during which time we have supplied and installed many aluminium carports and canopies we have designed our own canopy. We believe that our long experience of selling and installing carports, carport roofs, canopies and verandas has enabled us to design a flexible, value-for-money range of canopies.
Our aim is to provide a simple-to-install canopy in a wide range of readily available sizes that is also flexible enough to meet the specific needs of each customer.
The canopies are designed to be used in domestic settings such as
Carports
Verandas
Patio Covers
Walkway Covers
Caravan covers
Hot tub covers
Door canopies
We can also design and manufacture canopies for commercial uses such as
Smoking Shelters
Play area covers
Outdoor Education areas
Parking Shelters
Outdoor Dining areas
If you are a trade fitter and would like to become an approved fitter for the Smart Canopy please contact us.
Visit our online shop or call us on 01759 574426 today
You may also like to review the Case Studies section of our website that we are constantly updating with some of our recent client installations. View our carport installations here.

Page updated August 2022.