Energy Saving Advice for your Conservatory
How energy efficient is your conservatory? Originally, conservatories were thought likely to reduce household energy consumption. In theory, this 'buffer space' should passively collect solar energy, pre-heating the house and reducing the need for additional central heating.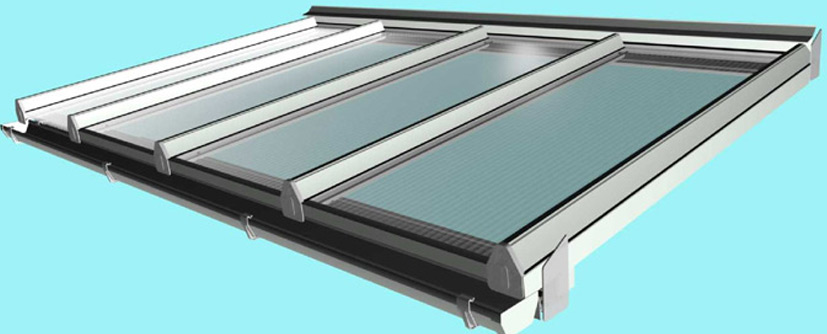 However, this theory relied on the conservatory being used during warmer months only, rather than all year round as part of the main house. A survey found the reality is quite different. Of 1800 respondents, 91% said they heat their conservatories and 50% of those said they do so regularly. A recent update of this work shows trends towards year-round conservatory use and the installation of heating and now also cooling systems is increasing. The irony is that such spaces lose heat at ten times the rate of conventional insulated rooms, even when double-glazed. Thus conservatories substantially increase energy usage by some households rather than delivering the 10% reduction in overall household energy usage originally predicted.
We have recently surveyed over 200 conservatory owners and found that only 5% are satisfied with the temperature of their conservatory: 60% think they are too hot in summer and 35% too cold in the winter.
The main problem areas for heat loss are the roof and windows. The goal therefore should be to insulate your conservatory sufficiently to minimize the heating or air conditioning required.


Conservatory Roofs
Most conservatories today have double glazed glass or multiwall polycarbonate roofs. Some very old roofs may be made of solid sheet or corrugated plastic. They will have very poor insulation and should be replaced if you want to use the conservatory throughout the year. If you want to compare the insulation effectiveness of the varying materials the most useful measure to use is U-values. The lower the U value the better the insulator e.g. 25mm polycarbonate is more than twice as effective for insulation as 10mm polycarbonate.
| | |
| --- | --- |
| Material | U Value ( W/m2K) |
| Single glazed glass | 5.5 |
| Double glazed glass | 2.65 |
| Argon filled Cavity glass | 1.6 |
| 10 mm polycarbonate | 3.2 |
| 16 mm polycarbonate | 2.4 |
| 25 mm polycarbonate | 1.6 |
| 32 mm polycarbonate | 1.25 |
| 35 mm polycarbonate | 1.2 |
Multiwall Polycarbonate Roofing
Multiwall polycarbonate glazing sheets are available in thicknesses from 10 to 35mm with the insulation improving with thickness. If you are thinking of replacing your roof it is well worth upgrading to a thicker polycarbonate as it will dramatically reduce heat loss through your roof. You need to check that your existing glazing bars can expand to accommodate a thicker polycarbonate.
If you have an issue with excessive heat gain in the summer there are a number of different solutions from using heatguard polycarbonate to fitting blinds, solar control film or solar inserts. The most effective in terms of heat rejection are solar inserts. They also have the benefit of being zero maintenance. They can be supplied pre fitted into new roofs or fitted at a later date.

Solution

Solar Heat

Rejected

Fade

Protection

Glare

Protection

Winter

Insulation

Traditional

Blind

17%

Some

Some

None

Blind with

Reflective back

35%

Good

Good

None

Solar Film

70%

Excellent

Good

Good

Heatguard

Polycarbonate

45%

Good

Good

Good

Solar Inserts

85%

Excellent

Good

Excellent
Glass Roofs
There are a number of different solutions for insulating a glass roof. The first one is to replace it with double glazed units with Pilkington K Glass. If you also have the active blue option it will help with solar heat gain too by rejecting 35-40% of solar energy. It is also possible to apply solar film to your glass roof to reduce solar heat gain by up to 70% . It is worth noting that the films most effective at rejecting heat have a mirrored effect. Ask Omega for samples which you can test and see if you like the effect or view our flat roof lights section. Whilst solar film will significantly reduce heat gain in the summer it will not dramatically help with heat loss in the winter.
Eaves Insulation
If your roof is quite high pitched you may suffer from draughts coming in through the eaves. If this is the case you can fit eaves filler into the gap between the roof glaizng and the eaves beam to prevent this. We supply 1M lengths of eaves filler in the online shop.
Windows
Ensuring you have draught free double glazed windows will help reduce heat loss in your conservatory. Again you can fit solar control film as a way of reducing heat gain in the summer. If you don't want the expense of replacing your windows with double glazed units there are secondary glazing solutions. The simplest solution is to use glazing strips to fit clear plastic sheets over your window frame. These can be then be removed in the warmer months if required. There are also magnetic and sliding secondary glazing systems available.
Heating Systems
Once you have your conservatory well insulated you can properly assess its heating/cooling requirements. One of the most energy efficient solutions if you require both heating and cooling is a heat pump. They are very easy to fit are quite unobtrusive and have up to an energy rating of an A.
Under floor heating is a good option to supply consistent temperatures if the only requirement is the provision of a heating solution.
If you require advice on the alternatives and which is most suitable for your conservatory please contact Omega (Roofing) Plastics Ltd.
Phone 01769574426
Email info@omegabuild.com
Website www.omegabuild.com