Roof Lanterns from Omega Build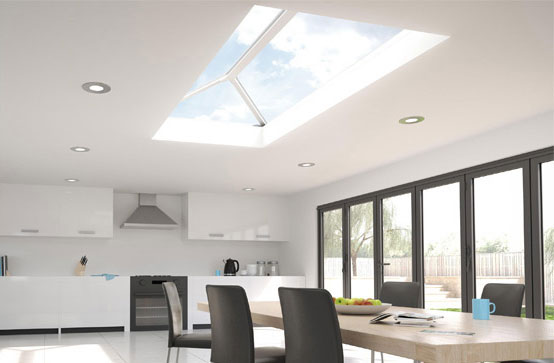 We supply a wide range of contemporary aluminium roof lanterns, upvc roof lanterns and roof domes for new builds & rennovations. Upvc roof lanterns and aluminium ones can offer some great lighting ideas and are the ideal choice for flat roof lights, allowing natural light into commercial, industrial and domestic buildings that have a flat roof, or flat roof extension.

Interested?
Quick Links to some of our popular products:

4 Panel (1 x 1) contemporary aluminium roof lantern
8 Panel (3 x 1) lantern
10 Panel (3 x 2) lantern

Or visit the Roof Lanterns section of our online shop for pricing and ordering information on a widerange of oof lantern lights, flat glass rooflights, trade and reflex domes, including our new grey aluminium roof lanterns.
Transform a room with a roof lantern (roof light)
Flat Roof lights are the ideal way of transforming a dull flat roof into a stylish orangery style room or conservatory flooded with light. We supply ours with a wide range of glazing options to suit your individual needs.




A roof light is usually added to a larger, flat roof to give natural light into the space or room below. In contemporary use, it is an architectural roof lanterns structure. In 16th century France and Italy they began usage in orangeries, an early form of a conservatory structure with tall windows and a glazed roof section for wintering citrus trees and other plants in non-temperate climates.



As the building materials and technology has improved so has the popularity of the roof lantern. It can turn what was a dull flat roof into a bright feature which will enhance any home.

Modern contemporary lanterns benefit from advances in& glazing and sealing techniques, plus the development of high performance insulated glass and sealants. These reduce energy loss and provide water-tightness in the same manner as conventional skylights. Typically,they are constructed using wood, UPVC or aluminium, or a combination of those materials.

UPVC Roof Lanterns are:
Discreet yet stylish.
They allow light to flood into your home's interior, the ideal modern lantern solution, coupling sleek contemporary looks with truly outstanding performance.
Designed from the ground up around an innovative thermally broken system, it provides excellent thermal performance - keeping cool in the summer and warm in the winter - while delivering the architectural refinement you'd expect of a high-end aluminium lantern system.
Every element of our new Stratus Thermal Lantern Roof has been designed to be exceptional. From the low profile 20 pitch that allows us to use purpose designed cappings that keep sightlines to a minimum - and your view of the sky maximised - to the discreet black finish of our perimeter beam, that ensures if you view the lantern from above all you'll see is glass and a discreet shadow line.
Stratus is high-quality British engineering at its best.

It is available in the ever popular white and anthracite grey. It comes with a range of thermally efficient glazing options and several different panel options.





Please go to our Online shop for more information and pricing on our range.


Each item is supplied as standard:
Flat packed,made to order
With fitting instructions
Without guttering
With a choice of ridge details
We also offer our traditional roof lantern range in upvc capped aluminium glazing bars. It is available in white upvc and foiled aluminium wood effect finishes. It is available with polycarbonate or glass glazing and a wide range of sizes.

We can supply matching glazing upstands to turn it in to an orangery and can be supplied with opening roof vents .

If you would prefer to have a wood framed rangery style lantern we also can supply aluminium rafter supported bars to sit on your wooden rafters. They have a matching ridge capping and cresting and finials.
If you cannot see what you require on the site please contact us on 01769 574426 or info@omegabuild.com.