Aluminium Roof Lanterns for Sale from Omega Build
Affordable roof lanterns and affordable contemporary roof lanterns can offer some great lighting ideas.

We have a wide range of contemporary aluminium roof lanterns and roof domes. Aluminium roof lanterns for new builds & renovations are the ideal choice for adding glass flat roof lights. Aluminium roof lanterns are cheap and provide a stylish way of allowing natural light into commercial, industrial and domestic buildings that have a flat roof, or flat roof extension.

Updated May 2023.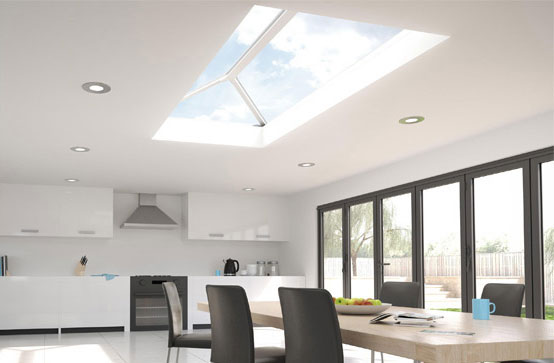 Interested?
Quick Links to some of our popular products for sale:

4 Panel (1 x 1) contemporary aluminium roof lantern

Feel free to call us for help with ordering or information on our wide range of roof lantern lights, flat glass roof lights, trade, and reflex domes, including our contemporary grey aluminium roof lanterns.
Transform a room with a roof lantern (roof light)
Flat Roof lights
are the ideal way of transforming a dull flat roof into a stylish orangery style room, or conservatory flooded with light for a relatively cheap price. We supply our flat roof skylights with a wide range of glazing options to suit your individual needs.
A roof light is usually added to a larger, flat roof to give natural light into the space or room below. In contemporary use, it is an architectural roof lanterns structure. In the 16th century, France and Italy began usage in orangeries, an early form of a conservatory structure with tall windows and a glazed roof section for wintering citrus trees and other plants in non-temperate climates. These days they are used on properties requiring low pitch roof lanterns, to let in more light & for aesthetic purposes.

You can see some recent customer installs of our products by visiting the Case Studies section of our website.



Modern aluminium roof lanterns benefit from advances in glazing and sealing techniques, plus the development of high-performance insulated glass and sealants. These reduce energy loss and provide water-tightness in the same manner as conventional skylights. Typically, they are constructed using wood, UPVC, aluminium, or a combination of those materials.
Omega Build UPVC Roof Lanterns
UPVC Roof Lanterns are available in the ever-popular white and anthracite grey. Coming with a range of thermally efficient glazing options and several different panel options.


Please contact us to buy today or for more information about availability and pricing on our range.

Measuring For a Roof Lantern
If you need help or assistance with details on how to measure the space for your roof lantern (skylight), or if you would like some advice on the pros and cons of these products, please call us and our experienced customer services team will be able to give you the guidance and advice that you need. Contact us today by calling 01769 574426.
Each item is supplied as standard:
Flat packed, made to order
With fitting instructions
Without guttering
With a choice of ridge details
We also offer our traditional roof lantern range in uPVC capped aluminium glazing bars. It is available in white uPVC and foiled aluminum wood effect finishes. It is available with polycarbonate or glass glazing and a wide range of sizes.

We can supply matching glazing upstands to turn it into an orangery and can be supplied with opening roof vents.

If you would prefer to have a wood-framed orangery style lantern we also can supply aluminium rafter supported bars to sit on your wooden rafters. They have a matching ridge capping and cresting and finials.

Frequently Asked Questions
Positioning. Where is best?

There is usually a natural position in your room that lends itself to the installation of your roof lantern. You may need to consult a builder or your architect to check that there are no structural implications with the installation you are considering.

Are they noisy when it rains?

Like Velux windows, roof lights can be noisy in inclement weather. A roof lantern with its sloping sides is generally a better option.

Do they need planning permission?

Generally, No. Their installation usually falls under the permitted development criteria, as long as they are not higher than the highest part of your roof. As a guide, they must not site any higher than 150mm from the existing roof. If in doubt, call your local planning office for guidance.

What size do I need?

Our roof lanterns work with internal opening measurements. Basically, you need to measure the opening in your roof where the lantern is going to be installed and go from there. For more details please visit our page on how to measure the opening for a roof lantern installation.

How much does it cost to install?

This will largely depend on whether you are going to fit it yourself or employ the services of a tradesperson to fit it for you. Click here for a good guide on the average costs of fitting one...
If you cannot see what you require on the site please contact us on 01769 574426 or
info@omegabuild.com
.