How to Choose a Rooflight for your Home
UK homeowners are as obsessed with getting more light into their homes as they are with property prices. And if you get that daylight from above, you can bring in twice as much as you would from similarly sized vertical windows. Roof lights can mean anything from the standard Velux-style ones used in loft conversions to large expanses of glass in the roofs of extensions: there's an increasing number of ways to light up your life. Following on from our guide about our range of roof lanterns, we now discuss how to choose the right roof lantern for your home.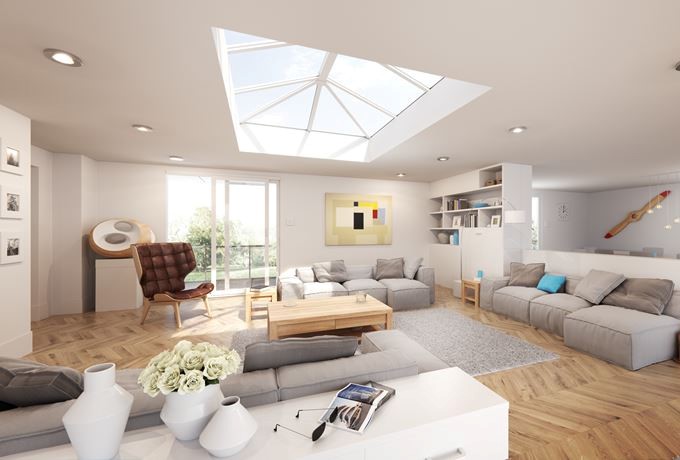 Extension options

The classic single-storey extension to create a bigger kitchen/diner is a great opportunity to flood your new space with natural daylight through the roof, especially if you're filling in a long, narrow side return. As this is a room you are going to spend a lot of time in it is best to go for as large a roof light as possible. This could be plain flat glass light or a raised lantern style.
A contemporary aluminium lantern can add design interest to a flat roof as well as giving you extra ceiling height. It looks particularly good if you design the extension so the roof light is directly over the dining area. Then you can look up to the stars in the evening.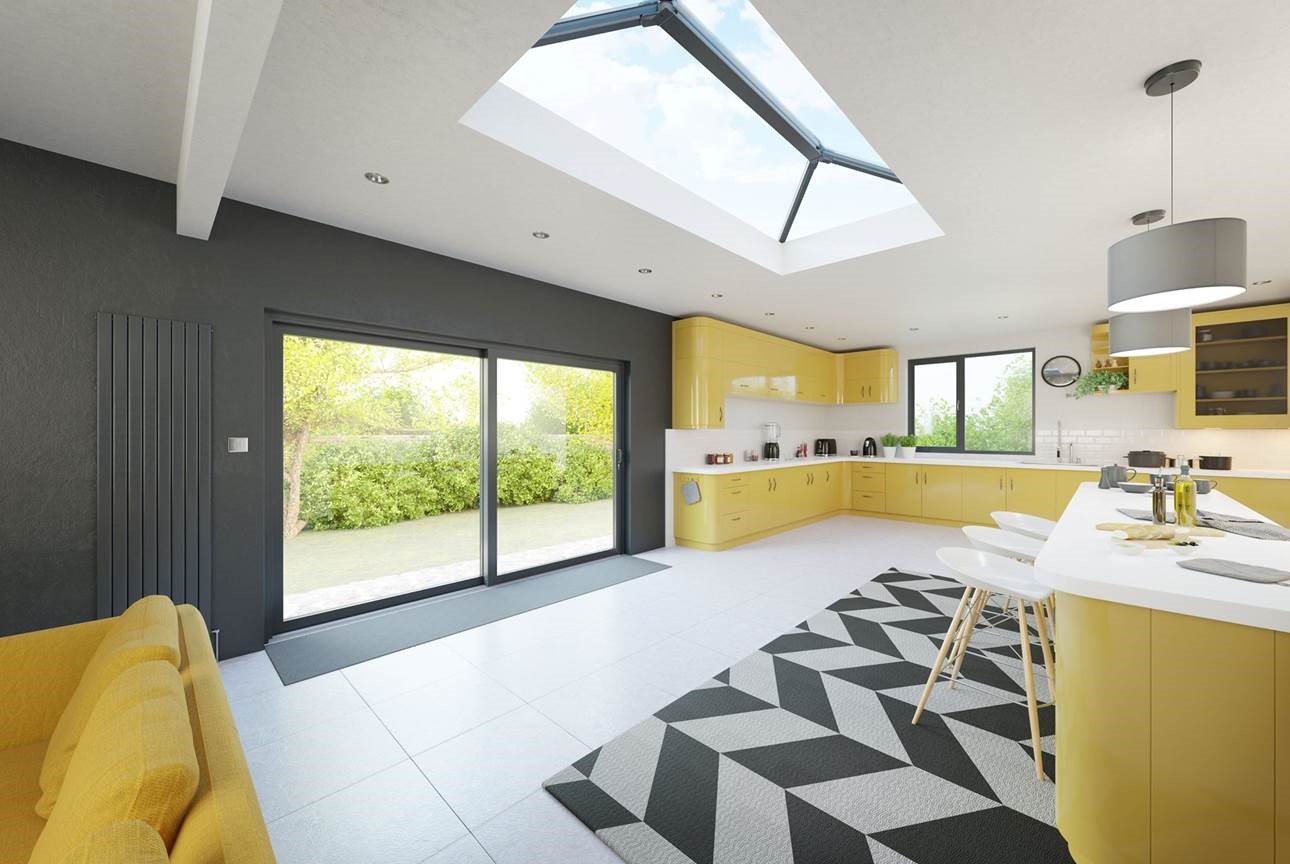 However it is best to put the roof lantern toward the back of the roof to let maximum light in. Extensions can often be dark and even if you have large bifold doors at the garden end the light may not reach far into the room. "Rooflights even the flat style ones will also add a sense of space" says Charlie Luxton the TV presenter.
Stairs, Bedrooms and Bathrooms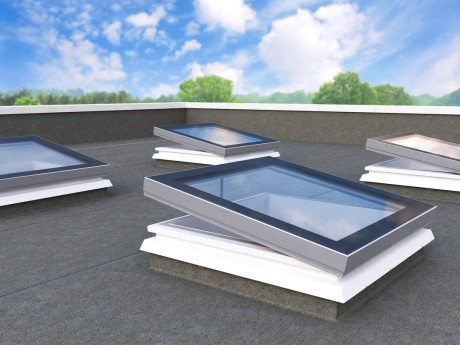 Small bathrooms, en-suites and cloakrooms are ideal places for rooflights as they require privacy and often have limited space for windows. Lying in the bath and looking at the clouds or the moon can add a sense of luxury.
As humidity can be an issue in these rooms it is important to choose one that will deal with the moisture. A rooflight that opens so it provides ventilation too is ideal. See our Mardome rooflight range which is perfect for this type of requirement.
If you are installing a roof light in a bedroom remember you will need to fit blackout blinds unless you want to be woken up early in the morning. Do also remember that rain will make a noise when falling on the glass- although blinds will help to muffle it.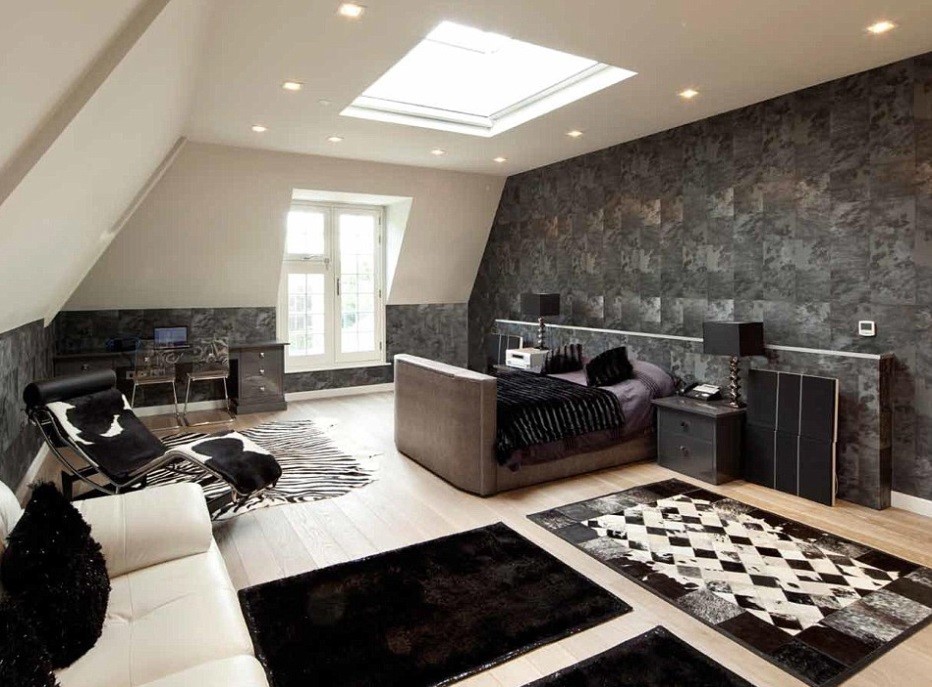 "Installing a roof light at the top of stairs is good if you can" says Luxton." Stair cases are often dark areas so having light flowing down through a double height space makes a big difference".
Ventilation and Rain Sensors
Unless you have a lot of ventilation in your room already do not go for a roof light that is fixed. House particularly old houses do need ventilation. A remote control electrically operated model is easier than having to keep a pole handy. You can choose motorised versions connected to a thermostat which will open when the roof reaches a certain temperature. Some have rain sensors which activate the closing mechanism when water is detected. It is important to keep the sensor clean.
Types of glass and glazing
Standard roof lights and lanterns are double glazed and thermally efficient, triple glazing is also available although adds to the weight of the roof light. You can opt for translucent glass for privacy and panes with a blue tint for solar control. Low E helps with thermal insulation and self clean coatings are always useful. Polycarbonate glazing is very strong but light weighty so is particularly good for large commercial installations and commercial roofing projects.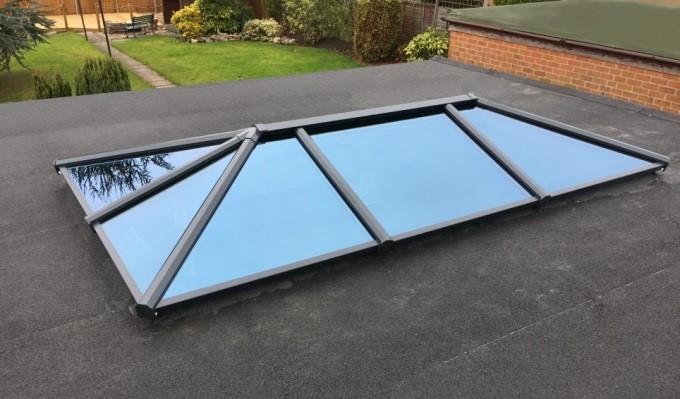 Cleaning Tips
Window Cleaners don't always remember to clean roof lights. If they get dirty they can dramatically reduce the light coming through. Velux style windows can pivot round the centre making them easy to clean from indoors. Roof lanterns ab lights can be supplied with easyclean glass. They are coated with an organic compound that reacts with sunlight to break down dirt. Whatever is left is washed away by the rain- as long as there is good enough pitch on the roof light.
How Much Does a Roof Light Cost?
You can buy a roof light directly from a company like Omega Build to help reduce the costs.
A small polycarbonate roof dome such as a Mardome will start from £95.00.
A flat glass rooflight from £690.00
A contemporary aluminium roof light at 2000mm x 1000mm would be £1,195.00.
If you do not want to fit yourself look for a local builders or flat roof specialist.