How to Measure for Secondary Glazing
It is important that you take accurate measurements in order to get the best possible fit for your new secondary glazing.
make deductions for the fitting tolerance
measure out of square openings
line up the secondary units with any horizontal or vertical divisions (break lines) in the primary window
comply with safety glass requirements
measure for a bay window, coupled or shaped unit
If you are not sure of anything or have a problem - just call us for help!
For the purposes of getting a quotation you don't need the break lines, just the design, approximate sizes and the type/s of glass.
Measuring for Secondary Glazing
The measuring is not overly complicated - but you can't be too careful!
there is really no such thing as a square, level window opening - without exception you will find differences in both the height & width measurements at different points around the window reveal
therefore please take special note of Example 3 below & always measure at several points around every window - always take the smallest measurement
the industry standard for measuring secondary windows is metric with all sizes stated in millimetres & the width is always stated as the first measurement
Example 1 – 3 part horizontal slider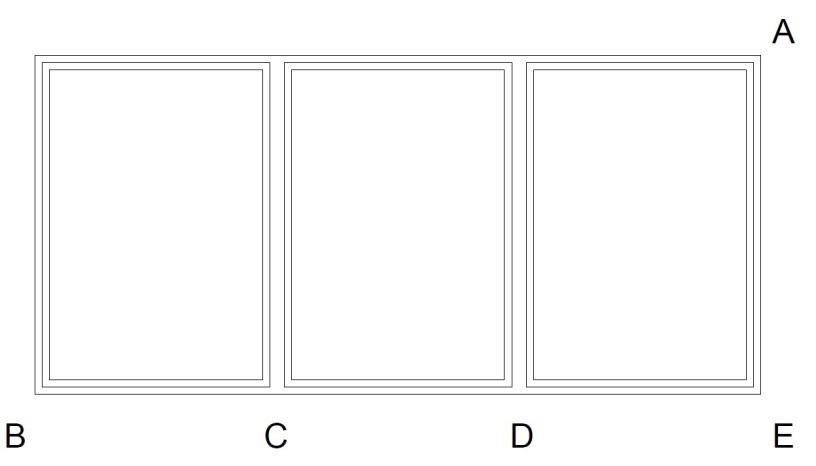 take the overall size from wall B to wall E and deduct 10mm, i.e. 1780mm becomes 1770mm
measure from wall B to centre of C and deduct 5mm, i.e. 785mm becomes 780mm - the break line
measure from C to D - centre to centre - to line up all mullions - do not make any deductions!
measure from wall A to wall E and deduct 10mm, i.e. 1190mm becomes 1180mm
This gives an all round fitting tolerance of 5mm.
---
Example 2 – vertical slider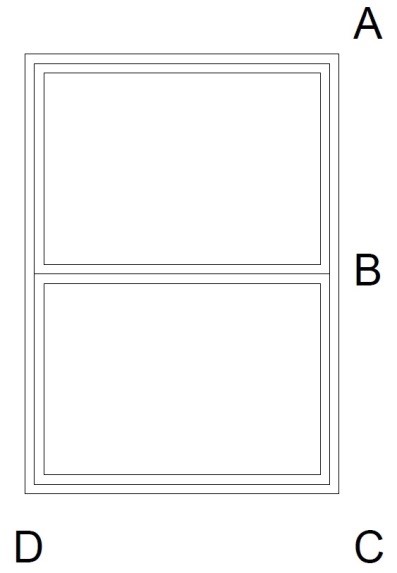 measure from wall D to wall C and deduct 10mm, i.e. 890mm becomes 880mm
measure from wall A to wall C and deduct 10mm, i.e. 1786mm becomes 1776mm
measure from wall A to the centre of B and deduct 5mm, i.e. 893mm becomes 888mm - the break line
This gives an all round fitting tolerance of 5mm.
---
Please note different types of secondary glazing will need different deductions. 10mm is ideal for the traditional and heritage style units we supply.
Other systems e.g. the Smartslider do not need an additional deduction as they are manufactured 3mm smaller
Example 3 – making allowance for out of square openings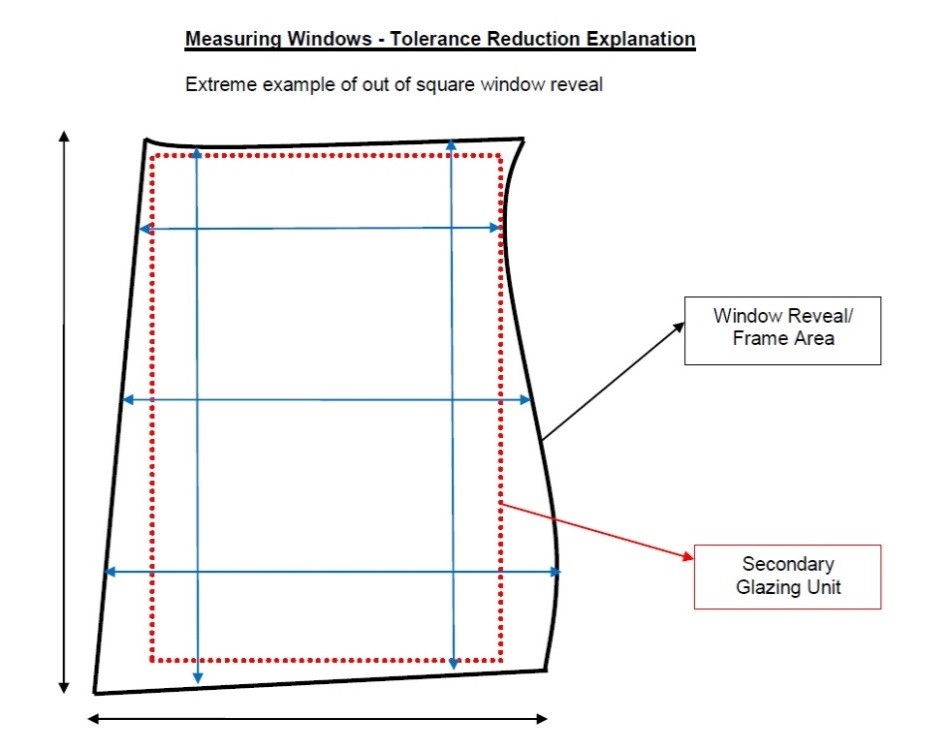 An extreme example of an out of square window reveal!
measure at several points all around the window
use the smallest width measurement - and deduct 10mm
use the smallest height measurement - and deduct 10mm
This gives an all round fitting tolerance of 5mm
Glass Type
The type of glass that you choose will be dependent upon what you want to achieve:
heat insulation
noise insulation
or a combination of the two
4mm and 4mm K glass are ideal for heat insulation
6mm or 6.45mm acoustic glass are usually best for sound insulation
Not sure? Just give us a call and we will advise you.
Safety Glass - Building Regulations Part N1 - Glazing Safety
This regulation applies to all glazing and requires that safety glass be fitted to the secondary glazing in the following situations:
all glass within 800mm of floor level
all glass within doors up to the height of 1500mm
all glass in windows and side panels that adjoin doors - up to the height of 1500mm for all glass within 300mm of the door edge
any glass where there is a danger of someone accidentally falling and coming into contact with and breaking the glass, for example, windows next to baths and windows on stairs, landings and half landings
The diagram below gives a quick visual reference: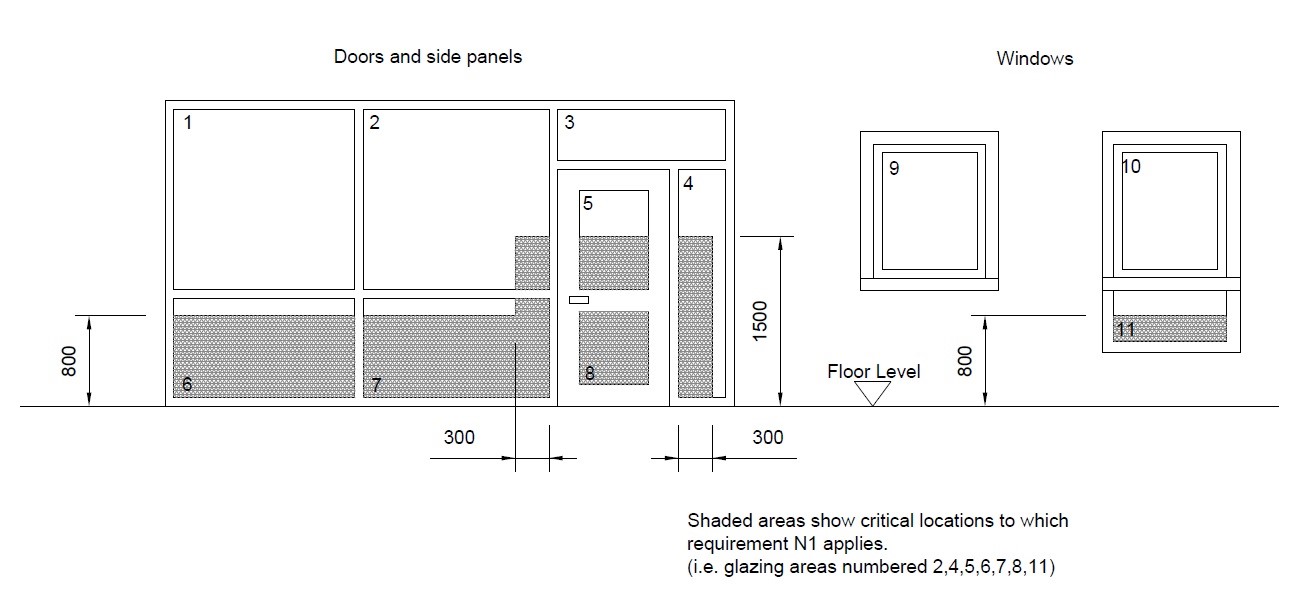 All the traditional and heritage units are supplied as standard with toughened or laminate glass.
Examples of different styles of Secondary Glazing:
| | |
| --- | --- |
| | |
| Balanced Vertical Slider (Sash Style) secondary glazing | Tilting Balanced Vertical Slider (Sash Style) secondary glazing |
| | |
| Horizontal Slider secondary Glazing | Lift Out Secondary Glazing |
| | |
| Hinged Secondary Glazing | |