Contemporary Aluminium Roof Lantern • 10 panel (3 x 2) Aluminium Roof Lantern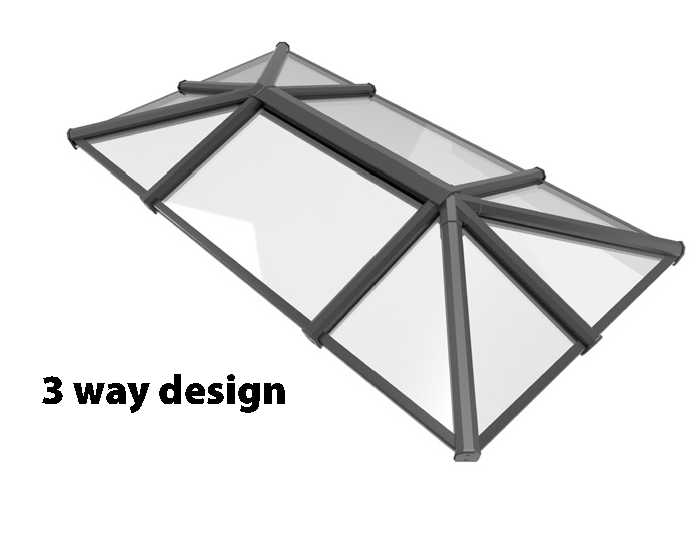 This design has 10 panels in total- 2 on the short side and 3 on the long side.
The ridge bar is 66% smaller than conventional aluminium roof systems.
The maximum size in this design is 3000 x 4500 mm. For larger sizes please contact the office for a quotation.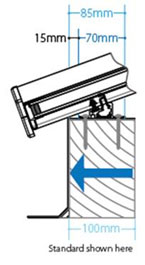 The sizes quoted are the outside edge of your builders upstand. The ring beam will be manufactured 30 mm smaller so it sits centred on your upstand allowing for clearance with the glass.
The lantern is up to 65% more thermally efficient than conventional aluminium roof systems
The ring beam has a discreet black finish which ensures that if you view the lantern from above all you will see is glass and a discreet shadow line.
The panels as are fitted at a standard 20° pitch.



| | | |
| --- | --- | --- |
| Glass Type | U Value | Clean option |
| Clear Low E | 1.2 w/m2K | None |
| Activ Blue or Clear | 2.8 w/m2k | Self Clean |
| Activ blue or clear with Low E | 1.1 w/m2k | Self Clean |
| Celsius Elite | 0.9 w/m2k | Easyclean |

Please choose the correct delivery area in the options. A list of postcodes is in the product description.

Return to the contemporary aluminium roof lanterns category home page.
PRODUCTS IN THIS SECTION

Our Price : £ 1,065.57 Ex. VAT
Price With Vat : £ 1,278.68 Inc. VAT


Our Price : £ 1,079.23 Ex. VAT
Price With Vat : £ 1,295.08 Inc. VAT


Our Price : £ 1,079.23 Ex. VAT
Price With Vat : £ 1,295.08 Inc. VAT


Our Price : £ 1,106.55 Ex. VAT
Price With Vat : £ 1,327.86 Inc. VAT


Our Price : £ 1,106.55 Ex. VAT
Price With Vat : £ 1,327.86 Inc. VAT


Our Price : £ 1,147.50 Ex. VAT
Price With Vat : £ 1,377.00 Inc. VAT

Contemporary Aluminium Roof Lantern • 10 panel (3 x 2) Aluminium Roof Lantern


As well as Contemporary Aluminium Roof Lantern • 10 panel (3 x 2) Aluminium Roof Lantern Omega Build supply a range of roofing components such as roof lanterns, roof domes, diy conservatory roof kits, polycarbonate roofing sheets, polycarbonate canopy kits, door canopy kits and much more.

Array