UPVC Roof Lantern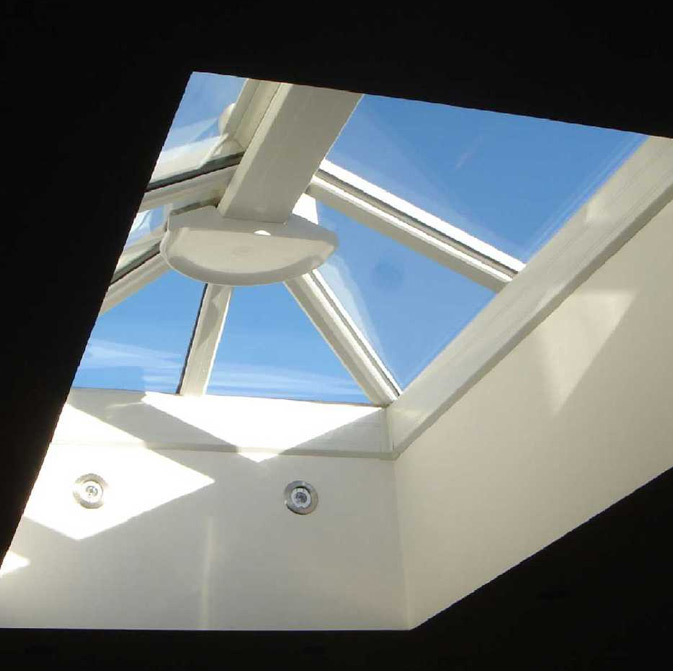 Our UPVC Roof Lanterns are supplied as a kit, ready to assemble and install on site.


UPVC Roof Lanterns - The Roof Lantern Light kit comprises:
Aluminium Self-Supporting glazing bars with Top Caps and under-cladding.
Eaves Beam Profile sections with internal cladding (NO external cladding).
Glazing panels.
Fixings/brackets to assemble the Roof Lantern.
Full assembly and installation guides.
The Lantern components will be made-to-measure based on your supplied dimensions.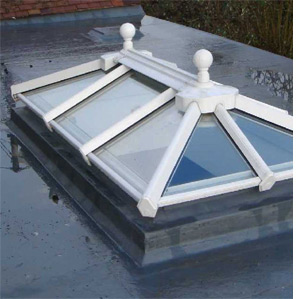 The Roof Lantern is designed to sit on your own builders upstand.
The measurements stated are the INTERNAL measurements of the (Roof Lantern Eaves Beam (i.e. the dimensions of your opening).
The Eaves Beam is 70mm wide; therefore we recommend the upstand you construct is 70mm wide.
We recommend that the upstand is 200mm high. Usually the upstand is constructed from wood and is waterproofed by bringing up the roof covering up over the upstand AND the mill finish aluminium Eaves-Beam.


Please Note: The exterior of the ring beam is mill-finished aluminium. External cladding is NOT supplied. This is to enable you or your fitter to bring your lead work or roof waterproofing up the side of the ring beam to cover the aluminium and ensure a good waterproof finish.
There are a number of options/choices for the lanterns:

Roof Light Glazing
Options for the roof light glazing include:
35mm Polycarbonate, U-Value 1.2 w/m2k.
24mm Clear, Toughened, Argon-filled glass, U-Value 2.7 w/m2k.
24mm Clear, Toughened, Planitherm+, Argon-filled glass, U-Value 1.2 w/m2k.
24mm Activ Blue, Toughened, Planitherm+, Argon-filled glass, U-Value 1.2 w/m2k.
24mm Activ Neutral, Toughened, Planitherm+, Argon-filled glass, U-Value 1.2 w/m2k.
Lantern Ridge:
The Lantern ridge finishing options are:
Plain
Plain with ball finials
Ornate cresting and finials
Glazed Upstand:
An additional option is a Glazed upstand that provides vertical glazing below the Lantern Roof. The Glazed upstand sits on the Builders Upstand.
Vents:
Vents for Lanterns can also be supplied.
If you would like us to quote for any other variants (that are not in the list of options specified in the Product listing, or, need further information on the lantern light please contact us or read our information page about our Roof Lanterns/Roof Lantern Lights here.

Upvc Roof Lanterns Delivery:
We can deliver to most parts of mainland UK. Please contact oure office on 01769 574426 for a delivery quote before ordering your roof lantern lights.

We also offer a range of aluminium roof lanterns.
UPVC Roof Lantern - Omega Build supply a range of roofing components such as diy conservatory roof kits, polycarbonate roofing sheets, polycarbonate canopy kits and much more. You are currently browsing the UPVC Roof Lantern category of our website.