UPVC Roof Lantern • Roof Lantern, Clear Glass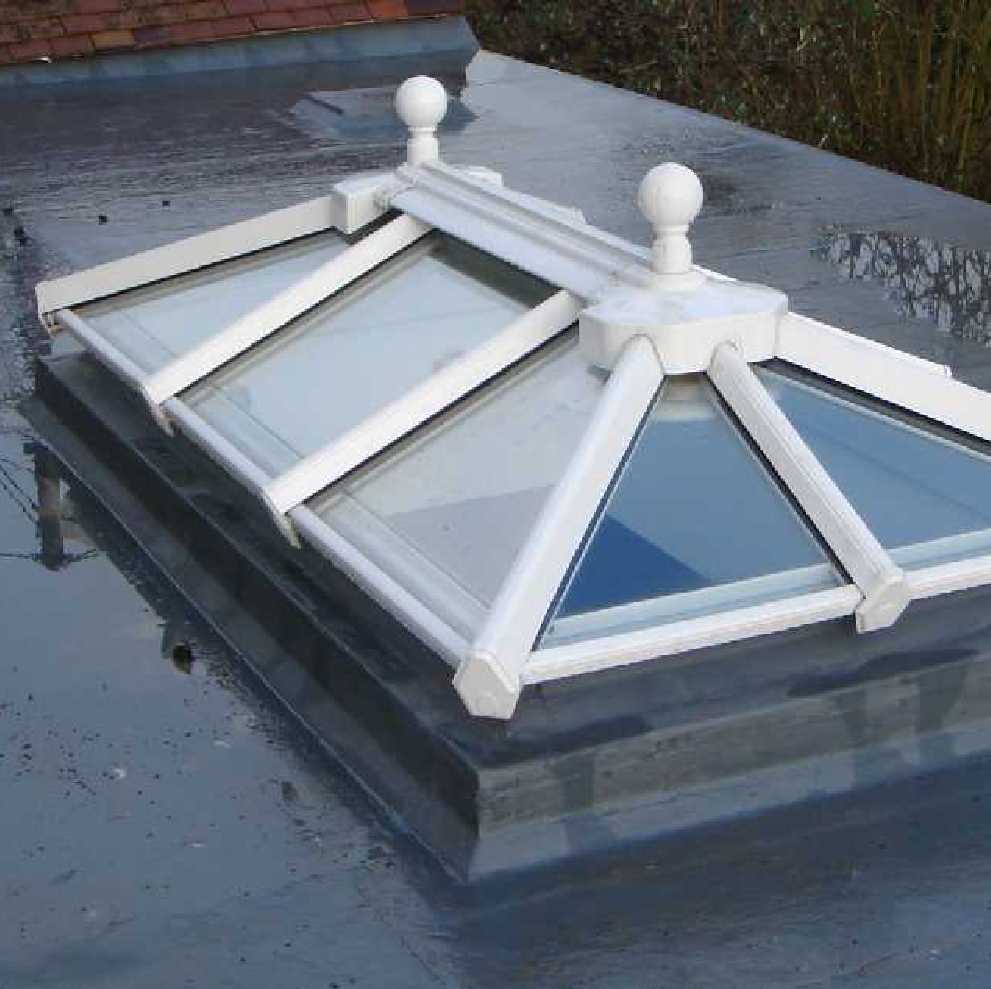 Design:
The aluminium glazing bars are fitted with: External Top Cap: uPVC, White. Internal Under-Cladding: uPVC, White.

Other Glazing Bar Options:
Top Caps can be supplied in other colours/finishes.
Coloured Top Caps are all foiled aluminium Top Caps with White uPVC
Under-Cladding.

The aluminium Eaves Beam (fixes to your Upstand) runs around all (4) sides of the Lantern. It is clad internally in uPVC, White.

Externally, the Eaves Beam is NOT fitted with guttering and is NOT supplied with any finishing. This allows the installer to bring the roofing material up the outside of the Upstand and continue up over the external face of the Eaves Beam to completely weather seal the Eaves Beam/Upstand joint.
Specifying your dimensional Requirements:

Roof Lanterns are made-to-measure based on dimensions provided by you.
(2) Dimensions are required: These are the INTERNAL dimensions of your Upstand.
Length (mm): the internal Upstand dimension (parallel to the Lantern Ridge).
Width (mm): the internal Upstand dimension (at 'Right-Angles' to the Ridge).
Glazing: This Lantern is supplied with Clear 24mm Toughened Glass Double Glazed Units:
(i) Argon Filled, (ii) NO Low 'E' Coating, (iii) NOT Self-Cleaning,(iv) U-Value: 2.7W/Sqm.K,
(v) Solar Heat Reflected: 24%, (vi) Light Transmitted: 81%.
Ridge Finishing: (1) Plain ridge, (2) Ball Finials or (3) Ornate Crestings and Finials.
uPVC Roof Lanterns are guaranteed for 10 years. Back to
uPVC Roof home page
.
If you know what you want:

Buy Online below

.
PRODUCTS IN THIS SECTION

Our Price : £ 523.36 Ex. VAT
Price With Vat : £ 628.03 Inc. VAT

UPVC Roof Lantern • Roof Lantern, Clear Glass


As well as UPVC Roof Lantern • Roof Lantern, Clear Glass Omega Build supply a range of roofing components such as roof lanterns, roof domes, diy conservatory roof kits, polycarbonate roofing sheets, polycarbonate canopy kits, door canopy kits and much more.