Wall-Mounted Lean-To Canopy in Anthracite Grey, Glazed with 16mm Polycarbonate • 3.5m Projection (Grey, 16mm)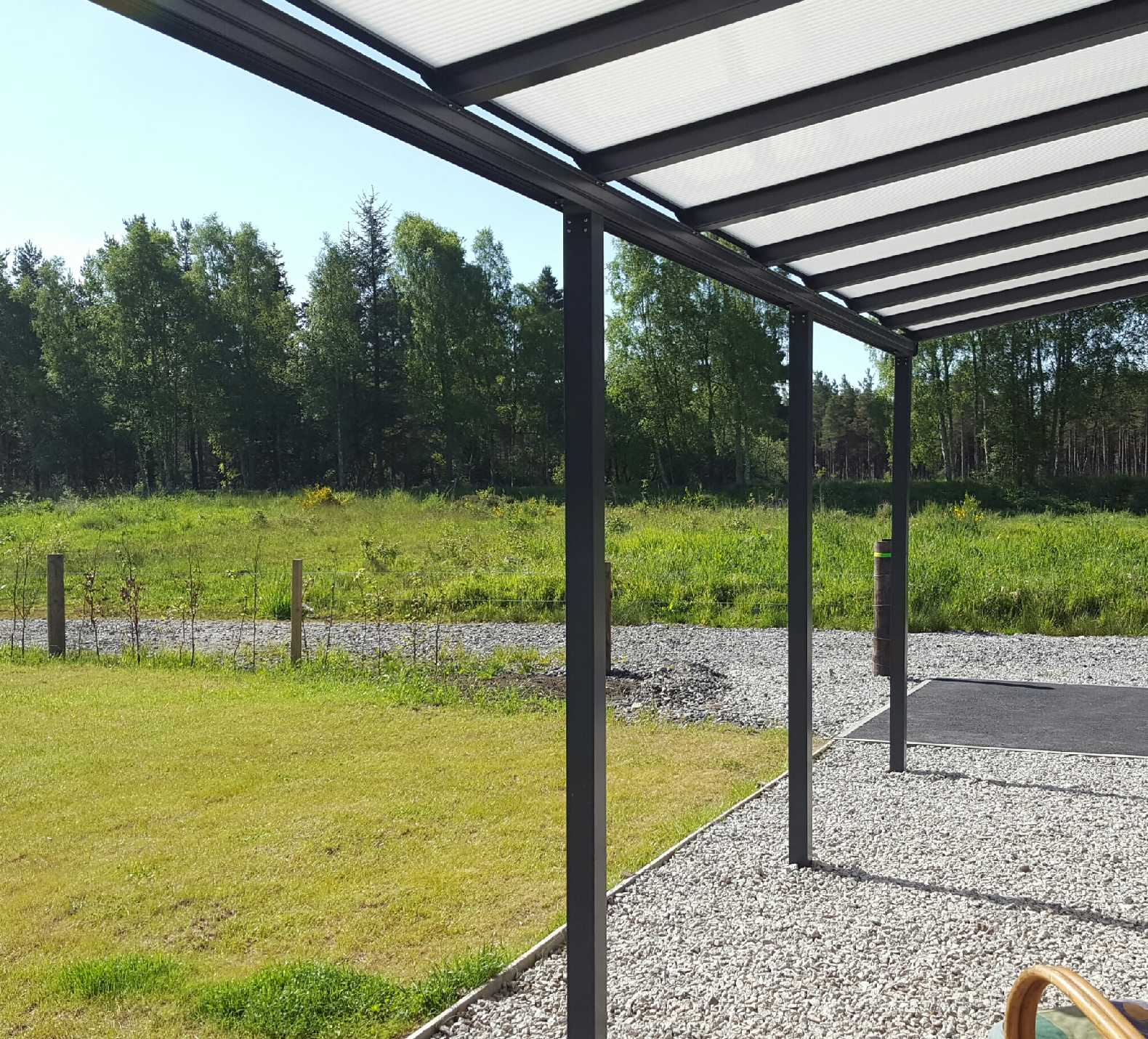 The Smart Canopy from Omega. A great solution for your Carport, Verandah, Patio Cover.
These canopies have a Projection (dimension from your wall to the Gutter) of 3.5m.
The structural grade aluminium alloy frame is powder-coated in Anthracite Grey.
The roof glazing panels are available in 16mm Clear, Bronze or Opal Polycarbonate.
The Roof Pitch is variable between 5 and 20 degrees.
Supporting Posts are supplied at 2.5m. Options include Knee-Braces and In-Fill sections.
Every Canopy is supplied with a comprehensive, step-by-step installation guide.
Every canopy is guaranteed for 10 years.
If you know what you want:

Buy Online below

.
PRODUCTS IN THIS SECTION

Our Price : £ 1,006.36 Ex. VAT
Price With Vat : £ 1,207.63 Inc. VAT


Our Price : £ 1,263.21 Ex. VAT
Price With Vat : £ 1,515.85 Inc. VAT


Our Price : £ 1,598.13 Ex. VAT
Price With Vat : £ 1,917.76 Inc. VAT


Our Price : £ 1,980.76 Ex. VAT
Price With Vat : £ 2,376.91 Inc. VAT


Our Price : £ 2,190.01 Ex. VAT
Price With Vat : £ 2,628.01 Inc. VAT


Our Price : £ 2,399.71 Ex. VAT
Price With Vat : £ 2,879.65 Inc. VAT


Our Price : £ 2,630.38 Ex. VAT
Price With Vat : £ 3,156.46 Inc. VAT


Our Price : £ 2,724.19 Ex. VAT
Price With Vat : £ 3,269.03 Inc. VAT


Our Price : £ 3,075.36 Ex. VAT
Price With Vat : £ 3,690.43 Inc. VAT


Our Price : £ 3,301.61 Ex. VAT
Price With Vat : £ 3,961.93 Inc. VAT


Our Price : £ 3,522.65 Ex. VAT
Price With Vat : £ 4,227.18 Inc. VAT


Our Price : £ 4,009.44 Ex. VAT
Price With Vat : £ 4,811.33 Inc. VAT


Our Price : £ 4,099.21 Ex. VAT
Price With Vat : £ 4,919.05 Inc. VAT


Our Price : £ 4,429.73 Ex. VAT
Price With Vat : £ 5,315.68 Inc. VAT


Our Price : £ 4,639.52 Ex. VAT
Price With Vat : £ 5,567.42 Inc. VAT

Wall-Mounted Lean-To Canopy in Anthracite Grey, Glazed with 16mm Polycarbonate • 3.5m Projection (Grey, 16mm)

As well as

Wall-Mounted Lean-To Canopy in Anthracite Grey, Glazed with 16mm Polycarbonate • 3.5m Projection (Grey, 16mm)

Omega Build supply a range of roofing components such as roof lanterns, roof domes, diy conservatory roof kits,

affordable secondary glazing systems

, polycarbonate roofing sheets, polycarbonate canopy kits, door canopy kits and much more.

1 2 >>