White Omega Verandah with 16mm Polycarbonate • Verandah - 4.5m Projection (W, 16)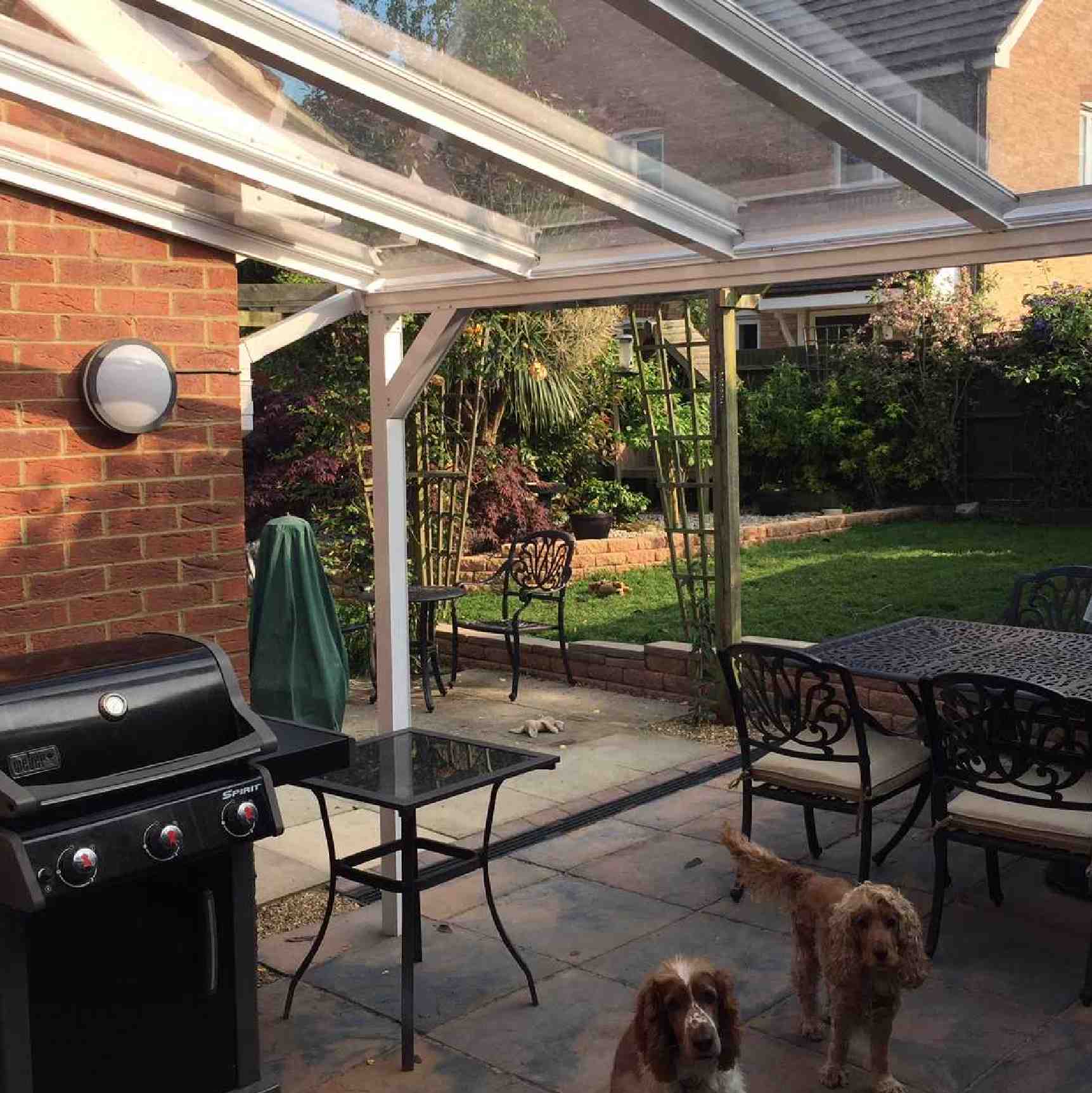 The finishing touch for your Patio. Enjoy the outdoors for longer. Makes outdoor living a reality. The Omega Verandah is based on our best-selling (wall-mounted) Smart Canopy System; with additional Finishing Trims and frame coloured, powder-coated fixings. As a consequence; the Omega Verandah has cleaner lines and higher quality architectural detail.
The Omega Polycarbonate Verandah Design Features:
High quality detailed finish. Unique Verandah Components providing high quality finished Verandah.
Glazed with 16mm Clear, Bronze or Opal Polycarbonate. Roof Pitch: 5 - 20 degrees.
Structural grade T6 Aluminium Alloy Frame. Powder-coated Full Gloss (Hipca) White, RAL9910.
Projection from wall: 4,316mm(at 20 degrees) - 4,570mm (at 5 degrees).
Supporting Posts are supplied at 2.5m. Options include Knee-Braces and In-Fill sections.
Step-By-Step Installation Guide. The Omega Verandah is guaranteed for 10 years.
If you know what you want:

Buy Online below

.
PRODUCTS IN THIS SECTION

Our Price : £ 1,928.07 Ex. VAT
Price With Vat : £ 2,313.68 Inc. VAT


Our Price : £ 2,284.32 Ex. VAT
Price With Vat : £ 2,741.18 Inc. VAT


Our Price : £ 2,700.55 Ex. VAT
Price With Vat : £ 3,240.66 Inc. VAT


Our Price : £ 2,950.66 Ex. VAT
Price With Vat : £ 3,540.79 Inc. VAT


Our Price : £ 3,193.37 Ex. VAT
Price With Vat : £ 3,832.04 Inc. VAT


Our Price : £ 3,447.39 Ex. VAT
Price With Vat : £ 4,136.87 Inc. VAT


Our Price : £ 3,693.00 Ex. VAT
Price With Vat : £ 4,431.60 Inc. VAT


Our Price : £ 3,820.66 Ex. VAT
Price With Vat : £ 4,584.79 Inc. VAT


Our Price : £ 4,432.82 Ex. VAT
Price With Vat : £ 5,319.38 Inc. VAT


Our Price : £ 4,456.45 Ex. VAT
Price With Vat : £ 5,347.74 Inc. VAT


Our Price : £ 4,726.35 Ex. VAT
Price With Vat : £ 5,671.62 Inc. VAT


Our Price : £ 4,968.62 Ex. VAT
Price With Vat : £ 5,962.34 Inc. VAT


Our Price : £ 5,504.82 Ex. VAT
Price With Vat : £ 6,605.78 Inc. VAT


Our Price : £ 5,751.01 Ex. VAT
Price With Vat : £ 6,901.21 Inc. VAT


Our Price : £ 6,001.11 Ex. VAT
Price With Vat : £ 7,201.33 Inc. VAT

White Omega Verandah with 16mm Polycarbonate • Verandah - 4.5m Projection (W, 16)

As well as

White Omega Verandah with 16mm Polycarbonate • Verandah - 4.5m Projection (W, 16)

Omega Build supply a range of roofing components such as roof lanterns, roof domes, diy conservatory roof kits,

affordable secondary glazing systems

, polycarbonate roofing sheets, polycarbonate canopy kits, door canopy kits and much more.

1 2 >>