Greenhouses and Glazing accessories • Greenhouse Glazing and Accessories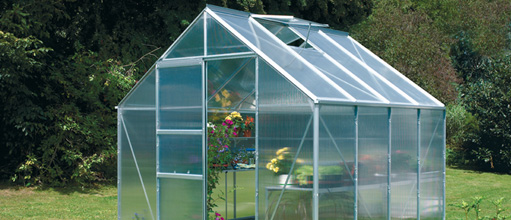 Greenhouse glazing - We stock a full range of greenhouse glazing, 4mm replacement polycarbonate sheets and a wide range of associated greenhouse glazing trims,tapes and clips. We have the most popular sizes available below. If you require a different size please contact the office. We can supply either the 4mm twinwall polycarbonate glazing sheets, or the 4mm solid plate polycarbonate sheet (looks like glass).
Our 4mm twinwall polycarbonate sheets are made in the UK with a 10 year warranty. They are UV protected on one side. They have a light transmission of 88% and are lightweight & strong.
The 4mm clear plate polycarbonate sheets are UV protected both sides and are clear like glass They are half the weight of glass but are 250 times stronger .
PRODUCTS IN THIS SECTION

Our Price : £ 32.87 Ex. VAT
Price With Vat : £ 39.44 Inc. VAT


Our Price : £ 32.87 Ex. VAT
Price With Vat : £ 39.44 Inc. VAT


Our Price : £ 67.87 Ex. VAT
Price With Vat : £ 81.44 Inc. VAT


Our Price : £ 97.87 Ex. VAT
Price With Vat : £ 117.44 Inc. VAT


Our Price : £ 13.70 Ex. VAT
Price With Vat : £ 16.44 Inc. VAT


Our Price : £ 3.32 Ex. VAT
Price With Vat : £ 3.98 Inc. VAT


Our Price : £ 3.42 Ex. VAT
Price With Vat : £ 4.10 Inc. VAT


Our Price : £ 1.80 Ex. VAT
Price With Vat : £ 2.16 Inc. VAT


Our Price : £ 6.91 Ex. VAT
Price With Vat : £ 8.29 Inc. VAT


Our Price : £ 0.91 Ex. VAT
Price With Vat : £ 1.09 Inc. VAT


Our Price : £ 7.78 Ex. VAT
Price With Vat : £ 9.34 Inc. VAT


Our Price : £ 6.07 Ex. VAT
Price With Vat : £ 7.28 Inc. VAT


Our Price : £ 1.25 Ex. VAT
Price With Vat : £ 1.50 Inc. VAT


Our Price : £ 3.25 Ex. VAT
Price With Vat : £ 3.90 Inc. VAT


Our Price : £ 8.58 Ex. VAT
Price With Vat : £ 10.30 Inc. VAT

Greenhouses and Glazing accessories • Greenhouse Glazing and Accessories

As well as

Greenhouses and Glazing accessories • Greenhouse Glazing and Accessories

Omega Build supply a range of roofing components such as roof lanterns, roof domes, diy conservatory roof kits,

affordable secondary glazing systems

, polycarbonate roofing sheets, polycarbonate canopy kits, door canopy kits and much more.

1 2 >>